Case Study
Retirement planning
David and Anna are aged 58 and 60 and, following a minor health scare, they realised what is truly important to them and have decided that they want to bring their retirement plans forward
David and Anna are aged 58 and 60 and, following a minor health scare, they realised what is truly important to them and have decided that they want to bring their retirement plans forward. They have grown up children who are financially independent, own their own property, and have repaid their mortgage. They love where they live and do not want to move from their home.
Having both had successful careers, they have saved into pensions as much as they could, given the commitments of bringing up their family and repaying their mortgage. They both have a full entitlement to the state pension from age 67.
More than anything they want to enjoy a truly fulfilled retirement whilst they are still young enough and healthy enough to do so. They want to travel together seeing much more of the world than they have been able to, given their busy lives, and want to know if they can afford to take early retirement and pursue their life aspirations.
They anticipate that they will do their travelling in the first 10 years of their retirement, after which they anticipate a reduction in their outgoings.
David and Anna have provided the following information about their current financial situation:
The financials
SIPPs

Self Invested Personal Pensions - David = £550,000 - Anna's = £475,000

ISAs

Individual Savings Accounts - David = £125,000 - Anna = £125,000

Savings

Cash deposits - Joint = £50,000

BSP

Basic State Pension entitlement - David = £10,000 pa. - Anna = £10,000 pa.

Spends

Anticipated expenditure in retirement - Living expenses = £45,000 - Travel expenses = £30,000
Using sophisticated cash modelling software, David and Ann's adviser demonstrates that, based on moderate assumptions about investment growth and inflation, they should be able to meet their income objectives in the long run.

The cashflow modelling software provides David and Anna with projections of their current assets, both in nominal and real money terms, to provide them with the confidence that their pensions, savings, and investments will be sufficient for them to actualise their aspirations and provide them with the retirement income they need.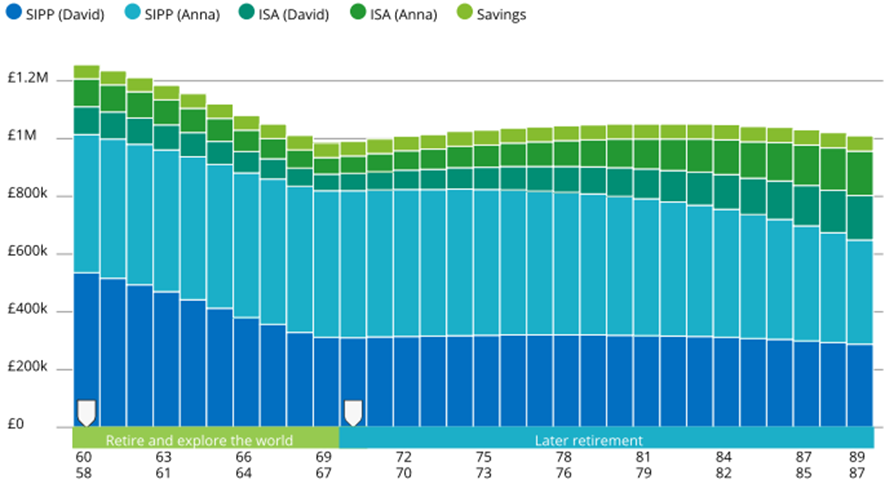 Nominal money projection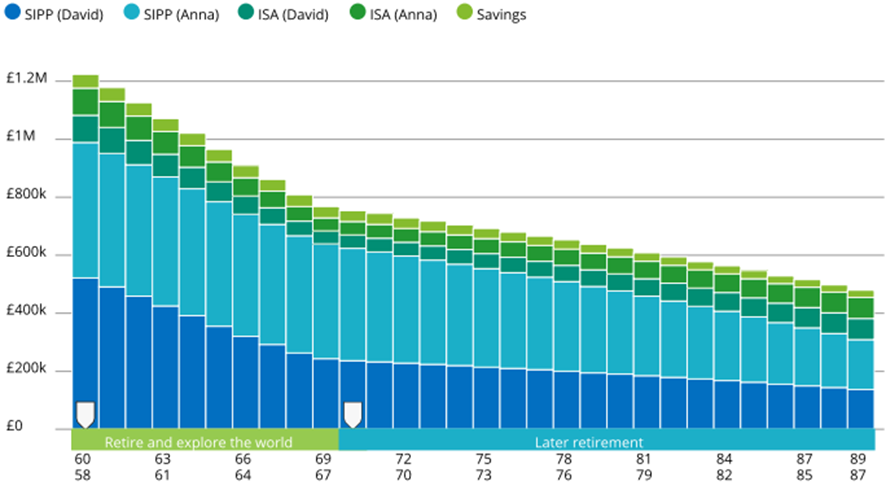 Real money projection
Book a one to one meeting
Please do not hesitate to contact us as we do not charge for initial meetings. We would love to hear from you.
Get in touch